Sanada Central High is one of the two co-ed high schools in the series.
Overview
[
]
Central High, as shown in the anime, is located on a large rectangular plot. The classes are held in a four-storey building that runs along one side of the plot, and the remainder of the area serves as a large sports ground. There is another building located to one side behind the main one, which looks like an auditorium or indoor sports arena.
Uniform
[
]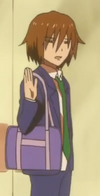 Sanada Central High's main uniform for girls is a blue skirt with a white top and red bowtie. They also have a blue coat, a light yellow sweater vest and a blue tank top which are sometimes worn. For boys, the uniform is similar to that of Sanada North's, with blue pants, a blue coat and a white undershirt. The tie, however, is green.
Gallery
[
]
Student Council
[
]
Central High's student council has at least two members, who are known for getting on badly with each other. They sometimes ask the North High council for help, and hold praise for their efficiency.
Members
[
]
Student Council
[
]
Other Students
[
]
Trivia
[
]
The school's name was first shown in Chapter 27, when Kiyotaka and his sister were introduced.