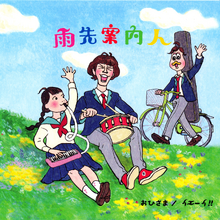 The anime features a selection of music from songs by recognized bands as well as original compositions. These are used as opening/ending themes for the episodes and background music during the sketches.
Openings and Endings
Edit
Name
Artist
Episode(s)
1. Shiny Tale
Mix Speaker's, Inc.
(ミックス・スピーカーズ・インク)
1 - 11 (OP)
12 (ED)
2. THE・Literature Girl (THE・文学少女)
ENA
1 (ED)
3. Ohisama (おひさま)
Amesaki Annainin
(雨先案内人)
2 - 11 (ED)
12 (OP)
Insert Song
Edit
Name
Artist
Episode
Capsule
Mix Speaker's, Inc.
(ミックス・スピーカーズ・インク)
3
Soundtrack
Edit
The official soundtrack to the show features 44 tracks. Most of them are used as background music within the sketches, while some are reserved for transition scenes.
For the track listing, see Music/Danshi Kōkōsei no Nichijou OST and Music/Shiny Tale (Type-C).
Amesaki Annainin (2010 - sometime before 2020): The creators of 'Ohisama'. At the time of the song's creation, the three members of the group were Haretarō Amenochi, Cosame Nishiyama and Saitō Shunsuke. The latter two left in December 2013 to pursue solo careers, and the group was effectively disbanded[1]. Over a year later, Amenochi revived the band as a 5-member group. Afterwards, in early 2017, three members departed and Amenochi continued to perform with Nakajima Motoyoshi as a duo.[2][3]

Some time later, the band closed down once more. As of 2020, the official Twitter handle continues to be operated by Amenochi[4].
Mix Speaker's, Inc. (2006-2018): The creators of 'Shiny Tale' and 'Capsule'. The band consisted of 7 members, namely Aya, Keiji, Miki, Nika, S, seek and YUKI. The latter two are known for respectively composing and writing lyrics for many of their songs. The group was known for using elaborate fantasy-themed costumes during live performances and music videos. YUKI left the band prior to their disbandment in 2018.[5]
ENA: A singer and lyricist known for working on various anime, often in collaboration with other artists.
Hiroaki Takeuchi: A singer known for his work in anime and video games, including the Splatoon series.
External Links
Edit
References
Edit
Community content is available under
CC-BY-SA
unless otherwise noted.