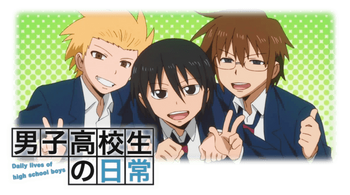 Daily Lives of High School Boys (男子高校生の日常Danshi Kōkōsei no Nichijou) is an anime adapted from the manga of the same name in 2012. The following is a list of episodes of the anime.
The manga was adapted to anime in the end of 2011. Eight five-minute pilot episodes were released on the Japanese anime website Nico Nico Douga from November 3 to December 22, 2011. The first episode of the official anime aired on January 10, 2012 in the Kantō region via TV Tokyo. The first season ended on March 27, 2012 with 12 episodes.
Each episode is about 25 minutes long and consists of several skits, which are usually independent stories. Each skit is about 2-7 minutes long. High School Girls are Funky shorts appeared at the end of episodes 3-12.
Episodes
[
]
Pilot episodes
[
]
| Ep# | Title | Original air date |
| --- | --- | --- |
| 1 | "High School Boys and the Literary Girl" | November 3, 2011[1] |
| 2 | "High School Boys and Skirts" | November 10, 2011 |
| 3 | "High School Boys and After School" | November 17, 2011 |
| 4 | "High School Boys and the Morning Journey" | November 25, 2011[2] |
| 5 | "High School Boys and the Convex Mirror Girl" | December 2, 2011 |
| 6 | "High School Boys and the Power of Friendship" | December 8, 2011[3] |
| 7 | "High School Boys and the Radio DJ" | December 15, 2011 |
| 8 | "High School Boys and the Train to School" | December 29, 2011[4] |
TV episodes
[
]
#
Content
Original air date
Episode 1

"High School Boys and After School"
"High School Boys and Skirts"
"High School Boys and Ghost Stories"
"High School Boys and Female Companions"
"High School Boys and the Literary Girl"

January 10, 2012[5]
Episode 2

"High School Boys and the Morning Journey"
"High School Boys and the Convex Mirror Girl"
"High School Boys and the Power of Friendship"
"High School Boys and the Literary Girl 2"
"High School Boys and Traditional Events"
"High School Boys and Childhood"
"High School Boys and Ghost Stories 2"
"The Daily Life of a Lady"

January 17, 2012
Episode 3

"High School Boys and Summer Plans"
"High School Boys and the Beach House"
"High School Boys and Hot Spring Balls"
"High School Boys and the Radio DJ"
"High School Boys and Summer Memories"
"High School Boys and the Train to School"
"High School Girls are Funky - Uniform and Boyfriend"

January 24, 2012
Episode 4

"High School Boys and Eavesdropping"
"High School Boys and the School Festival 1"
"High School Boys and the School Festival 2"
"High School Boys and the School Festival 3"
"High School Boys and the School Festival 4"
"High School Boys and Consultations"
"High School Girls are Funky - Joking"

January 31, 2012
Episode 5

"High School Boys and Dubbing"
"High School Boys and Seniority"
"High School Boys and the Savior"
"High School Boys and Old Friends"
"High School Boys and the Tale of a Hero"
"High School Boys and the Literary Girl 3"
"High School Girls are Funky - Resentment"

February 7, 2012
Episode 6

"High School Boys and the Holy Night"
"High School Boys and the New Term"
"High School Boys and the Younger Sister's Troubles"
"High School Boys and Ringo's Troubles"
"High School Boys and Motoharu's Troubles"
"High School Boys and the Sure-Kill Shot"
"High School Girls are Funky - The Past"

February 14, 2012
Episode 7

"High School Boys and the One-Trick Talent Show"
"High School Boys and Indoor Adventures"
"High School Boys and Indoor Adventures 2"
"High School Boys and Older Brothers"
"High School Boys and Being Yourself"
"High School Boys and Careers"
"High School Boys and Mitsuo"
"High School Boys and Mitsuo 2"
"High School Girls are Funky - High School Girl Power"

February 21, 2012
Episode 8

"High School Boys and Motoharu's Older Sister"
"High School Boys and Mitsuo's Troubles"
"High School Boys and Manga"
"High School Boys and Balconies"
"High School Boys and Convenience Stores"
"High School Boys and Towers"
"High School Boys and Cakes"
"High School Boys and Horoscopes"
"High School Boys and 100"
"High School Girls are Funky - Ramen"
"High School Girls are Funky - Skirts"

February 28, 2012
Episode 9

"High School Boys and Older Brothers and Sisters"
"High School Boys and Drop-Kicks"
"High School Boys and the End of Summer"
"High School Boys and Glasses"
"High School Boys and the Daily Lives of the Student Council"
"High School Boys and Panties"
"High School Boys and Wiring"
"High School Girls are Funky - Archdemon"

March 6, 2012
Episode 10

"High School Boys and Limits"
"High School Boys and Consequences"
"High School Boys and Winter"
"High School Boys and Running"
"High School Boys and Mochi Soup"
"High School Boys and the Ground"
"High School Boys and Bikes"
"High School Boys and Cooking"
"High School Boys and Schools"
"High School Girls are Funky - Women who Left a Scar"

March 13, 2012
Episode 11

"High School Boys and Fathers"
"High School Boys and the Literary Girl 4"
"High School Boys and Conflict"
"High School Boys and Kick the Can"
"High School Boys and Chitchat"
"High School Boys and Love Letters"
"High School Boys and Distance"
"High School Boys and Annoyance"
"High School Girls are Funky - Battle Royale"

March 20, 2012
Episode 12

"High School Girls are Funky - Demons"
"High School Boys and Lies"
"High School Boys and UFO Catchers"
"High School Boys and Store Employees"
"High School Boys and Assertiveness"
"High School Boys and Getting Hit On"
"High School Boys and Frankfurters"
"High School Boys and..."
"High School Girls are Funky: The Movie - Archdemon vs. Silver Devil!"

March 27, 2012

Specials

"High School Boys and Ideals"
"High School Boys and Loneliness"
"High School Boys and Zippers"
"High School Boys and Tricks"
"High School Boys and Hiccups"
"High School Boys and Consideration"

-
References
[
]