Welcome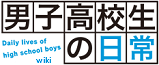 Welcome to Daily Lives of High School Boys Wiki, a database dedicated to the Danshi Kōkōsei no Nichijou series by Yasunobu Yamauchi that anyone can edit!
6,808 edits to 225 articles since it was made! You can help us by contributing!

SPOILER WARNING: This wiki contains a lot of unmarked spoilers relating to Nichibros.

Founded by ErzaTitaniaScarlet on 11 January 2012.
Please see below for important pages.
---
Series


Series and adaptations of Danshi Kōkōsei no Nichijou.

Characters


List of Characters.

Community


Participate, it's fun (We could use your help!).
---
About Us
·
Recent Changes
·
Policy
·
To-do List
·
Images
·
Wanted Pages
·
Help
·
Sandbox
About the Series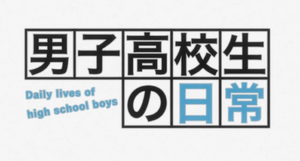 Danshi Kōkōsei no Nichijou (男子高校生の日常 Daily Lives of High School Boys) is a slice-of-life comedy manga series written and illustrated by Yasunobu Yamauchi that ran from 2009 to 2012. The series is known for providing comic insights into the 'ordinary' lives of a group of high-schoolers, and focuses on three second-year students and their friends.
Please Help Out!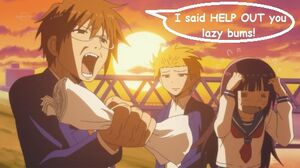 Just kidding :D

Nonetheless, Daily Lives of High School Boys Wiki could benefit a lot from your help. Anyone can help out just by adding info and sharing anything you know about the Nichibros anime or manga, though the best way to start is by editing articles that need more info. You can also help by adding photos, so please consider becoming a registered user (it's free!). We'll be counting on you! Thank you so much for your time!
Featured Article
Coming Soon!
Recent Blogs

RianL110
•
Vertical Comics recently announced that they have licensed the Nichibros manga for a physical release in English! This release is expected to take place sometime next year.
Source:…

RianL110
•
Just an announcement:
DKNN began its serialization on May 21, 2009 (according to MAL), which means it turns 10 years old today!
Affiliate Wikis
Featured Image
Main Characters
Polls
Old polls: Archive

Unfortunately, voting requires logging in now, due to FANDOM guidelines (sorry about that).

More polls available in the Discussions section!
Help Start A New Article
To start a new article, just click the corresponding button near the top-right of this page (in the header).

Also, please consider helping out in the stub sections/pages.